On July 20th, 2012, James Holmes, a deranged graduate student who claimed he was the joker, fired merciless during the premiere of the new Batman movie,
The Dark Knight Rises
, in Denver, Colorado
.
Tragically, twelve people were taken from the world and almost sixty others were injured. Unfortunately, this was not the first such incident to have taken place in the United States. Here, I want to take a moment to remember the other such mass killing tragedies that resulted in fatalities that have occurred since the infamous Columbine incident.
As of this time, 30 people are still hospitalized and 11 in critical condition
James Holmes (age 24)
Disclaimer: This list includes only mass murders and murder sprees; the difference between the two is that the following list murders have all occurred in one location like the Batman shooting.
Jan. 8, 2011: Tucson, Arizona
Gunman Jared Lee Lougher shot 18 people in a Safeway parking lot that killed six and wounded twelve others. Among those murdered was Chief U.S. District Court Judge John Roll. U.S. Representative Gabrielle Giffords was also injured in the shooting. Lougher had been indicted on 49 charges and his trial continues as the court debates Lougher's mental fitness to stand trial.
Jared Lougher
Feb. 12, 2010: Huntsville, Alabama
Gunwoman Dr. Amy Bishop Anderson shot 6 people during a Biology department meeting where she was refused tenure. Three people were killed, all professors while three others (two professors & one staff assistant) was injured. Bishop had been charged with counts of capital murder and attempted murder; her trial continues with her lawyer using the insanity plea.
Amy Bishop Anderson
Nov. 5, 2009: Fort Hood, Texas
Gunman Major Nidal Hasan, a radical Muslim, shot 42 individuals his workplace, the Soldier Readiness Processing Center. In this most deadly shooting incident on a U.S. military base, 13 individuals were killed (14 if you count the unborn child of Private Francheska Velez, one of the victims) while 29 others were wounded. Hasan was shot during his arrest and now paralyzed from the chest down. Because it is believed that he acted alone, Hasan is being prosecuted in a military court and currently undergoing court martial. 83 claimants are also suing the U.S. government and Army for 750 million USD for willful negligence because they did not act against Hasan despite warning signs for political correctness.
Nidal Hasan
Apr. 3, 2009: Binghamton, New York
Gunman Jiverly Voong, a Vietnamese immigrant, shot 17 individuals, including himself, at the American Civic Association immigration center. 14 individuals were killed, including a visiting scholar at Binghamton University, while 4 were injured. Voong's parents issued an apology for their son's actions.
Jiverly Voong
Mar. 30, 2009: Santa Clara, California
7 individuals in total were shot in a home in Silicon Valley with the gunman being one of them in a familial murder-suicide. Six died, including 4 children, with a 7th critically injured.
Mar. 29, 2009: Carthage, North Carolina
Gunman Robert Stewart shot 10 individuals at Pinelake Health and Rehab center, a nursing home. 8 were killed in the massacre, including 7 patients and a nurse. Stewart himself was wounded by the police during his arrest. He was afterwards tried and convicted 8 counts of second-degree murder and sentenced to over 100 years in prison.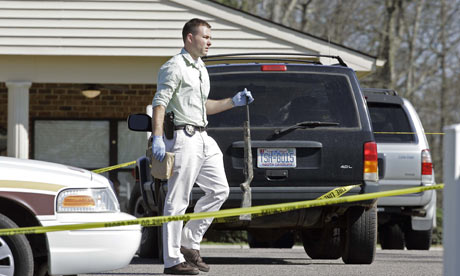 Robert Stewart
Dec. 24, 2008: Covina, California
Gunman Bruce Pardo, dressed in a Santa suit, shot a number of individuals at a Christmas party in his former in-law's house and subsequently burnt down their house with a home-made flamethrower. 9 people were killed; 3 from gunshot alone, 4 from a combination of fire and gunshot and 2 from fire. Pardo later committed suicide by gunshot at his brother's residence.
Bruce Pardo
Feb. 14, 2008: DeKalb, Illinois
Gunman Steven Kazmierczak shot 22 individuals (23 including the gunman) on the Northern Illinois University campus. 5 of victims died (6 if you include the perpetrator himself who committed suicide) while 17 of his gunshot victims were wounded. 4 others were injured escaping the scene.
Steven Kazmierczak
Feb 2, 2008: Chicago, Illonis
An unidentified and still at large African-American gunman shot 6 individuals at a Lane Bryant clothing outlet in a what the police believed to be a botched robbery attempt. 5 of the victims were killed and the 6th wounded. An 100, 000 USD award remains in place for the arrest of the perpetrator.
Sketch of the Perpetrator
Dec. 24, 2007: Carnation, Washington
Shooters Michele Anderson and boyfriend Joseph McEnroe shot 6 people at Anderson's mother's home. All the victims died from gunshot wounds including two in children - Anderson's niece and nephew. Their trial still continues currently with the perpetrators; interestingly, Anderson, for a time, wanted the death penalty before changing her mind.
Joseph McEnroe
Michelle Anderson
Dec. 5, 2007: Omaha, Nebraska
Gunman Robert Hawkins shot 12 individuals (13 if you include Hawkins) at the Von Maur department store at the Westroads Mall. Of the victims, 8 were killed (9 including himself as he committed suicdie) while 4 were wounded, 2 critically. The Hawkins family released a statement expressing condolences for the victims the day after the shooting and a formal apology a week afterwards.
Robert Hawkins
Sep. 21, 2007: Dover, Delaware
Gunman Loyer Braden shot 2 individuals on the Delaware State University campus. One of the victims died a month later from injuries sustained during the attack. The murder case collapsed because of a technicality and Braden was freed.
Loyer Braden
April 16, 2007: Blacksburg, Virginia
Gunman Seung-Hui Cho shot 49 individuals one the campus of Virginia Polytechnic Institute and State University. 32 people were killed while 17 others were injured by the shooting; 6 others were wounded while escaping from the massacre. Cho himself committed suicide after the massacre. There were two incidents in total separated by two hours - the West Ambler Johnston shootings and the Norris Hall shootings. A lawsuit was settled for 11,000,000 USD by 24 or 32 of the victims or their families against the state of Virginia. Virginia Tech, on the other hand, was fined for 55,000 USD (the maximum amount) by the Department of Education for violations for failing to inform students of the West Ambler Johnston shooting. Virginia Tech was also found guilty of negligence by a jury. The death toll of this massacre was the greatest in all school shootings since 1927.
Seung-Hui Cho
Oct. 2, 2006: Bart Township, Pennsylvania
Gunman Charles Roberts IV shot 10 school girls at the Amish West Nickel Mines School. Of the 10 victims, 5 were killed and 5 wounded while Roberts committed suicide after the incident. The school was demolished one week afterwards and rebuilt six months later near the original site.
Charles Robert IV
Mar 12, 2005: Brookfield, Wisconsin
Gunman Terry Ratzmann shot 11 people at the Living Church of God. 7 of the 11 shot were killed including the minister and the minister's son. Ratzmann then committed suicide at a Sheraton Hotel in the city.
Terry Ratzmann
Nov. 21, 2004: Meteor, Wisconsin
Gunman Chai Vang shot 8 individuals in northern Wisconsin during a dispute over hunting on private land. Of the 8 shot, 6 were killed and 2 were wounded. Vang was convicted on 6 counts of 1st degree murder and 2 counts of attempted murder; for his crime, Vang was later sentenced to 6 consecutive life terms (plus seventy years) because Wisconsin did not have the life penalty.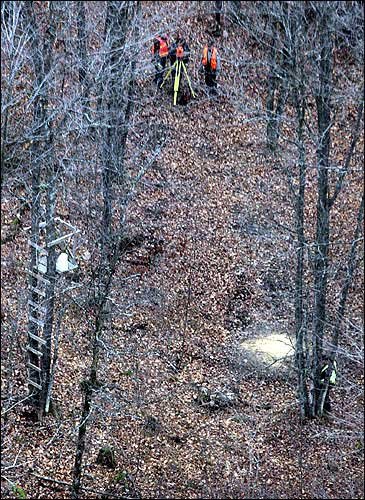 Chai Vang
August 27, 2003: Chicago, Illinois
Gunman Salvador Tapia shot 6 of his former co-workers at the Windy City Core Supply where he was laid of 6 months prior to the incident. All of his gunshot victims were killed and another was tied up by managed to escape and notify the police. Tapia himself was killed by the Chicago police department's Hostage Barricade and Terrorist (HBT) team.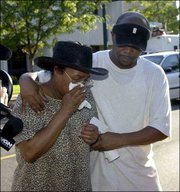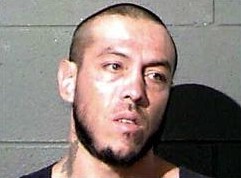 Salvador Tapia
Sep. 15, 1999: Fort Worth, Texas
Gunman Larry Ashbrook shot 14 individuals during a Forty Days (Christian rock group) concert at Wedgwood Baptist Church. 7 individuals were killed while 7 were injured, 3 critically. He committed suicide after killing the church-goers.
Larry Ashbrook
Apr. 20, 1999: Columbine, Colorado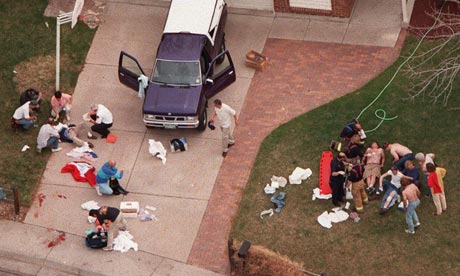 Gunmen Eric Harris and Dylan Klebold shot 34 individuals at Columbine High School. 13 of his victims were killed; 12 of these were students while the other was a student. 21 of his victims were wounded by gunshot and another 3 were injured trying to escape. After an hour of shooting students and teachers, the duo killed themselves via gunshot. Numerous legacies resulted from the shooting including new tactics for counteracting perpetuators who are interested in killing rather than taking hostages; new anti-bullying policies, increased school security and increased gun control measures.
Dylan Klebold (left) & Eric Harris (right)
Overall, these incidents combined to kill and maim hundreds of victims. However, these incidents continue to repeat themselves. We must remember to notice the potential warning signs of these incidents. In the light of the recent tragedy in Denver, let us all pray (or for those without religious convictions, to support in whatever way) for the souls affected by the morbid acts of a madman.